When it comes to planning your wedding, remember that your wedding invitation will speak a lot about your personality as well as style as a couple. To impress your guests, you will have to choose wisely. However, given how reputable wedding invitations uk companies offer so many invitation types, choosing the right one can be downright tricky. To help you make the right choice, we will cover in greater detail some of the most popular types of invitations these days.
Engraved invitations
If you are looking for something classic, engraved wedding invitations should be your top pick. These are typically used to announce traditional-style ceremonies. They are also highly popular for formal weddings too. However, due to the complexity of their manufacturing process and the fact that it takes several steps to finish the invitations, these are very time-consuming and somewhat expensive. Therefore, if you opt for engraved invitations, make sure to order them at least 7-8 weeks before your big day.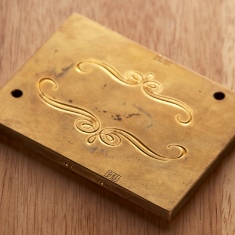 Thermographed invitations
If you are not prepared to spend lots of money on engraved invitations, thermographed ones are their best alternative. The process of thermography makes an illusion of a raised text, via a process that heats a resin chemical and ink, which, in turn, cause the printed text to appear raised over a smooth paper. This results in a very elegant and classy look, which is quite popular for semi-formal weddings. Even though these invitations take less time to create than engraved ones, you should still order them around 5-6 weeks before the ceremony.
Offset printing invitations
The process of offset printing (lithography) is among the most popular choices these days, mainly because of their cost- efficiency. These can be purchased from almost every vendor and allow the customer the option of printing their own information on them. Offset printing invitations are best suited for casual and semi-formal weddings. If you opt for these, keep in mind that their quality can vary greatly. Therefore, make sure you work with a reputable vendor, who can deliver true colors and crisp quality. To be sure, order these at least four weeks in advance.
Letterpress invitations
This type of invitations has become fairly popular for both modern and classical themed weddings. Their main feature includes the text and the graphics indented into a quality thick paper with a metal plate. This process gives the invitations a rather glamorous feel and makes them somewhat similar to the engraved ones.
Embossed invitations
These are also quite similar to the engraved invitations. The raised print on these invitations undoubtedly looks classy and fairly impressive. However, they might be a bit hard on your budget. Still, if you want something unique for your wedding, opt for embossed invitations, as they are rarely seen these days.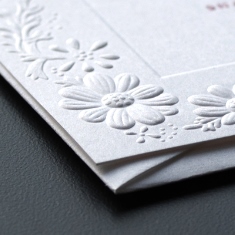 Handmade invitations
If you are not really in the mood for spending a lot on your wedding invitations, and if you want to add that personal touch to your big day, handmade invitations are the way to go. To make the entire process much quicker and easier, consider using an attractive stationery and a desktop publishing program as well. Keep in mind that it is quite easy to make all kinds of mistakes, so, give yourself plenty of time to make them.