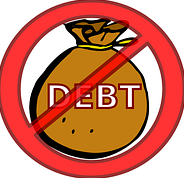 The sense of frustration has become rampant in almost everyone's life poor financial management resulting in debts. Building wealth has become a complex, confusing, big elephant to swallow. You don't have to become a debt expert to know what is necessary and what is not. Worry not, a debt coach will not only help you spend within your budget but will also help you change some of your long held beliefs to get your life back on track.
Just like a weight loss coach, a debt coach will help you gain back your financial consciousness and develop a plan for the future. The coach will help you develop values that promote healthy saving habits in your life.
Here are the benefits of engaging a debt coach to get out of debt
1. Get a customized and personal wealth plan.
A debt coach will assess your personal situation and help your realize your personal goals by creating you a custom tailored wealth plan that takes into consideration of your competitive advantages. The coach will carefully engineer your own road-map to debt free life and subsequently wealth creation.
2. Increased efficiency
The coach will eliminate wasteful distraction in your personal life and aide you realize you that your goals are within reach. He will make you focus on you wealth plan by eliminating the unwanted distraction and making you focus primarily on critical issues. People with financial coaches improve their ability to make sound financial decisions and make conscious decisions concerning their future.
3. Reduces mistakes
The brainstorming and vetting exercises you do when you are with your coach helps you avoid making mistakes that may end up costing you big. With an expert debt coach as you financial partner, you not only benefit from his expertise but also the experience of clients that the coach has nurtured before.
Why make mistakes when there is a better way? Your finances are just one stage in which you act your whole life. How you handle you finances will show up in how you handle your time, relationship, health and much more. Your life is an outward reflection of your internal reality; therefore, it is all fodder for debt coaching. That is why you must change yourself first before you can change for financial situation. It all begins with you, the change you want is yourself. You are the cause, and your money is just an effect. Get yourself a debt coach and design your own future.